Sorry it's been a few days. We've been settling back into our "normal" routine.
Lucy seemed happy to be picked up from boarding, although as usual she never lacked attention while she was there. Apparently they had her sit in on some staff meetings.
Elias has started first grade, and we have work due soon so I've been scrambling to make up for the two weeks we lost while on the road. (Not that we didn't do educational stuff during the travels, and not that I can't have that count as our work, but I do need to get our organization in better shape.)
Steve has gone back to work.
The house is still for sale.
Oh, and Camping World might have messed up our hitch installation. Steve is talking with a hitch expert about that. Could be fun.
But without further ado, here are some photos from our trip, including the remaining photos of Homer's interior that I wasn't able to upload before.
Here's a big rocket at the Johnson Space Center in Houston. See Steve and the kids at the bottom? (At least I think that's Steve and the kids...)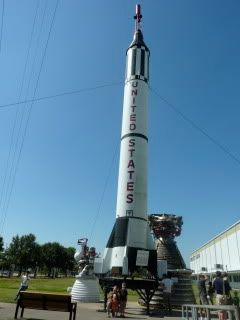 This is the guard station at the Igloo factory in Brookshire, TX. (For the record, they have a factory store there, and we scored about $60 worth of coolers for $20.)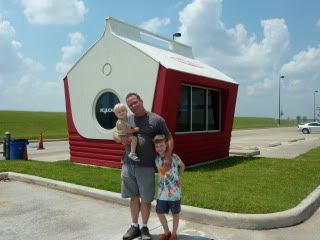 This is the World's Largest Fire Hydrant in Beaumont, TX. It's actually only the third-largest now, but who's counting? It sits outside the Texas Fire Museum and was created to publicize the release of the live-action version of Disney's
101 Dalmatians
.
They also have some normal-sized Dalmatian-themed hydrants: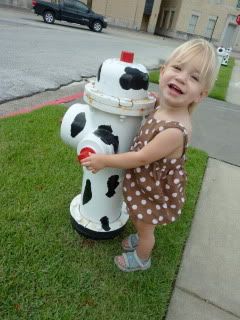 And Elias found a Hidden Mickey on one:
Anna driving a fire truck in the museum:
And Elias:
Here's Anna by the river at the KOA in Junction, TX: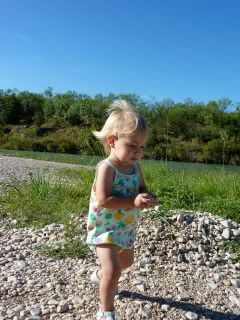 Elias at the site where Billy the Kid was sentenced:
Anna being a goof: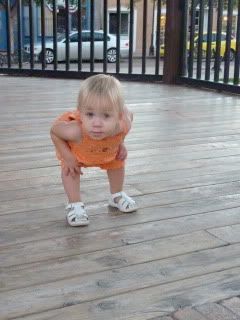 The kids' wardrobe and bathroom in Homer:
Our first dinner in Homer:
A photo of the whole rig:
And finally, a rock Elias found at the campground in Yuma. He thought it looked like a fifth wheel, and I'd say he's absolutely right: