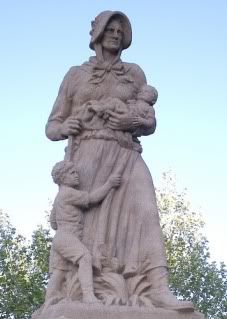 (photo by
WG Finely
, used under
Creative Commons Attribution-Share Alike 2.0 Generic License
)
During my senior year of college I took a History/American Studies course called "The American Highway." It was basically a study of the history and cultural implications of (wait for it) the American highway, from the early days of dirt roads to the completion of the Interstate system.
As I mentioned in
a previous post
, I had kept nearly all of my books from college. I also mentioned that I wound up parting with most of them this summer when I finally cleared out our bookshelves. There were, however, a few that I kept.
One of those is a book I was assigned to read in my American Highway class:
Uneasy Rider: The Interstate Way of Knowledge
. I'll admit that I didn't read the entire book when I took the class. (I admit this with knowledge that I'm going to send a link to this post to the professor who taught the class. Hi, Stu!) I got partway through, then my very important life (read: baseball games) got in the way. But I always meant to go back and read it, and now I am. We're about to set out on the road, so why not read up on it?
The author's premise is that, unlike other writers who look for the "authentic" America on the backroads, he can find it on the Interstate. I could write a whole treatise on that theory (and did, for the class), but that's not the point of this post, so I'll spare you.
The book is filled largely with the author's ego, and also with a tremendous amount of tedious minutiae. It is also, though, speckled with incredibly interesting nuggets of information, which is what keeps me reading it.
I discovered one of those nuggets yesterday: The Madonna of the Trail.
The Madonna of the Trail is an homage to the pioneering spirit of the women who accompanied their men into the western frontier. As you can see from the photo above, the Madonna holds a baby in one arm and has a child clinging to her leg. I can relate. (She also carries a rifle, which I don't, but feel almost obligated to do now that I'm a Texan.)
There are 12 such Madonnas installed in as many states along the National Old Trails Road by the Daughters of the American Revolution. They were all dedicated in the late 1920s, and were part of a pet project by future president Harry Truman.
As an American history nerd, I was excited to have "discovered" these statues, but also regretted that I hadn't known of them before.
When I read the list of where these statues are located I almost literally kicked myself. The westernmost statue stands at the corner of Foothill Blvd. and Euclid Ave. in Upland, California, less than five miles from where I went to college.
I can't tell you how many dozens of times I passed through that intersection. I even recall being stopped at that intersection many times because there is also a Euclid Avenue in my hometown-area of Cleveland, and apparently I was too busy reminiscing to notice the 18-foot-tall monument on the corner.
I do have to question the relevance of locating the statue in Upland. Yes, the highway passed through the city (Foothill Blvd. is also part of the old Route 66), but beyond that, it seems like a stretch. I admit that my memory of westward expansion is rusty, but I don't recall pioneers flocking in their covered wagons to Upland. It's the thought that counts, though.
For a while now I have planned on taking the family on a mini-roadtrip up to that area. One of the original
Wigwam Motels
still exists in San Bernardino, a fact a friend and I discovered one sleepless college night while searching in vain for a midnight snack. Now I have another stop to add to that trip, and a renewed desire to go.